Top 5 things to do in McLeodganj during this summer: 2023 Edition
Blissful breeze and mighty mountains along with Tibetan diaspora, this and much more is what you will get in Dharamshala, Himachal Pradesh. McLeodganj is a small town in Dharamshala having its own charm and there is no dearth of picturesque beauty and serene places in McLeodganj, allowing it to stand at the top of everyone's to-do travel list. This place is Pandora's box and has something for everyone.
McLeodganj is popular for being the home of His Holiness, Dalai Lama (the Tibetan spiritual leader), and other Tibetans who fled from their own country and took refuge in India post a swindling takeover by China in 1949. Since then Dharamshala has been their permanent home and they have tremendously shaped the culture of this place. There is too much to explore and see in Dharamshala if you are visiting for the first time. Here are our top picks for the five best things that you could do in Dharamshala this summer so stay tuned and read ahead to know more.
Top 5 things to do in McLeodganj, Dharamshala
1. Go Trekking in the wild
Nature Trek is the first thing that you must do in Dharamshala. Hiking up until the Triund peak is an amazing adventure activity. The views are breathtakingly picturesque and serene all throughout the way up to the top. As a matter of fact, one must carry their own tent and other arrangements such as a water bottle if you don't want to pay extra for water. A bottle of water will cost around 100 rupees at Triund top. The trek is 10 kilometers long. This trek is suitable for beginners as there are gradual steep ascents and easy descents. It takes almost 5 hours to reach Triund top from the base which is why it is advised to always start as early as possible. Also, an early morning trek is surely going to be beyond imagination.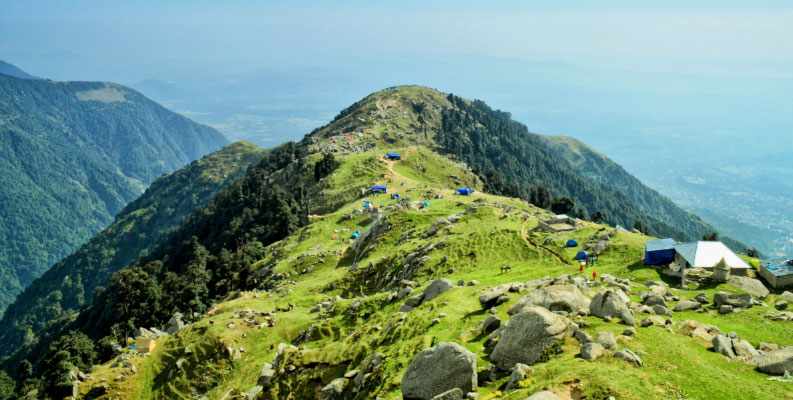 2. Visit Kangra fort to relish history
The Kangra Fort is quite gripping and one could visit this to get a glimpse of the colossal architecture made in the olden days as it is one of the oldest dated forts in India. Kangra Fort is the largest fort in the Himalayas and the foundation stone was laid by the Royal Rajput family of Kangra State (the Katoch dynasty). The fort premises are open for sightseeing from 9 am and close at 7:30 pm. Keep the timings in mind before visiting this fort.
3. Pay a visit to the Tibetan Museum
The Tibetan museum narrates the grueling story of Tibet's takeover by the imperialist force, China. The museum will leave you with chills as you navigate through the tortures inflicted upon Tibetans by Chinese people. Dharamshala is a safer place for the people of Tibet.
4. Feel the water in Bhagsunag waterfall
Bhagsunag waterfall is one of the most exciting and crowded places among other McLeodganj attractions. The sight of these cascading waterfalls from the foot of the Himalayas is an utterly pleasing sight to behold. One can also enjoy leg dipping or may dive in the waterfall (wherever permissible) to make the most of your time in Bhagsunag. Just above the waterfall, there is a popular Shiva cafe located and one must visit the same for an amazing experience.
5. Let loose the Orophile in you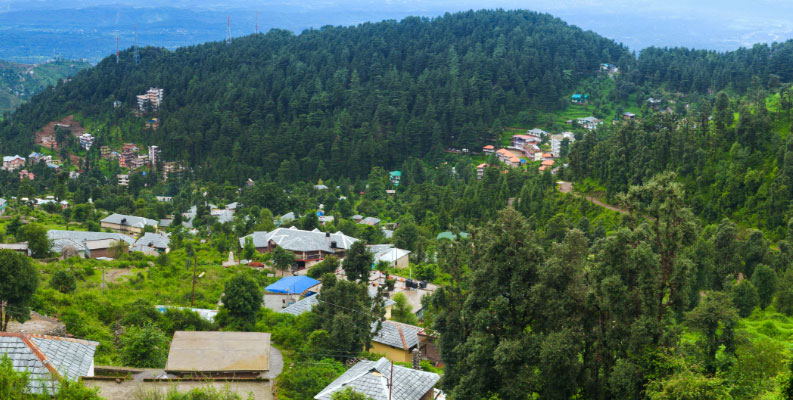 Dharamkot is a small hill station located in the Kangra district, Himachal Pradesh, and is a famous recreational spot for locals and tourists alike. If you think that McLeodganj is too crowded for you then visiting Dharamkot could be the best bet. The spectacular views of the Himalayas from Dharamkot remain unparalleled.
Plan your trip today, and book your flight as the Kangra-Gaggal airport is located near Dharamshala and you can find flights from all major cities in India arriving here. Book your holiday soon to experience pure bliss, peace, and serendipity.