How to board a flight? Airport Guide for your Maiden Flight
Are you experiencing first-time flying jitters? Catching a plane is not rocket science but may become dreadful for first-time flyers. Worry no more, as we bring you the most elucidated airport guide for catching your first-ever international flight. So without much ado, let's get into this.
The two poles of flying remain Departures and Arrivals. The steps remain more or less the same so let's tackle Departures first.
How to catch an International flight for the first time?
Passengers may stick to the below-mentioned steps in order to catch an international flight smoothly and without any blunders.
The Most Basic Checklist
Here is an essential document checklist that you must adhere to for steady boarding as far as an international flight is concerned:
· Make sure you have your ID card and passport (if you're flying internationally), visa (if applicable), and any other required documents.
· Hard/Soft copies of Tickets.
· BOARDING PASS (If available) or you may also print the same at the self-check-in counters at the kiosks made available at the airport.
· Download all necessary travel apps.
Note: Make sure to go through the respective airlines' policy whose booking you hold in order to save yourself from any last-minute blunder.
Air Travel Best Procedure
Some things that you cannot miss for boarding a plane whether international or domestic are as follows:
· Travelers must adhere to the baggage allowance as mentioned on the airline's website as per their class of reservation to save themselves from paying extra baggage fees at the check-in counter at the airport.
· Always make sure to reach the airport well in time, which means at least 2 to 3 hours prior to your scheduled departure time.
· Check and carry all necessary travel documents with you for boarding an international flight.
Baggage Allowance: know your luggage

Every airline in business has its own set of restrictions as far as baggage allowances are concerned. What can you do?
Check your airline's baggage policy: Before packing your bags, visit your airline's website to review their baggage policy. This will outline the size, weight, and number of bags allowed, as well as any fees or restrictions.
Know your cabin baggage allowance: Most airlines allow passengers to bring one piece of cabin baggage and one personal item, such as a backpack or purse, on board. Make sure to check the size and weight restrictions for these items, as well as any prohibited items.
Pack light: To avoid excess baggage fees, pack only what you need for your trip. Consider wearing your bulkiest items, such as jackets or boots, on the flight to save space in your luggage.
Secure your checked baggage: If you plan to check luggage, make sure to secure it with a sturdy lock or zip ties to prevent theft or damage during transit.
Label your bags: Attach a luggage tag with your name, contact information, and flight details to each piece of luggage. This will make it easier to identify your bags and ensure they are delivered to the correct destination.
Arrive early: Allow plenty of time to check your bags and go through security screening. The recommended arrival time is usually 2-3 hours before your scheduled departure time.
Also, make sure that you double-check your luggage to ensure that you don't have any forbidden items in your luggage. This would save you a lot of time and the hassle of confiscation while at the security check at the airport.
Getting to the Airport
It is of prime importance that you reach the boarding gate well in time for your flight this means that one must be done with all the necessary things like:
· security checks and screening,
· boarding pass collection,
· baggage check-in, etc at the airport.
Now all of this requires a good time, hence it is advised to reach the airport at least two to three hours prior to your flight's scheduled departure so that you are able to board your flight smoothly and without any last-minute jitters.
Note: It is better to select public transport if you don't want to kill your time searching for a parking space for your own vehicle.
Here are some transport options that you can select from in order to reach the airport:
· Cab services provided by any of the following platforms: App-based taxis (Uber and Ola), Radio Taxis (Meru and Mega cabs), Rental cars (Carzonrent and Wti car rental), EV Taxis (Blu Smart and Evera EV taxis)
· Metro or Airport Express line available in New Delhi. It takes only about 23 minutes to interlink the IGI airport to other parts of New Delhi.
· Airport Shuttle Bus Facility is yet another option available to reach the airport to catch a flight.
Moreover, every terminal at IGI has a separate parking space where one can securely leave their car parked and fly.
The Check-in process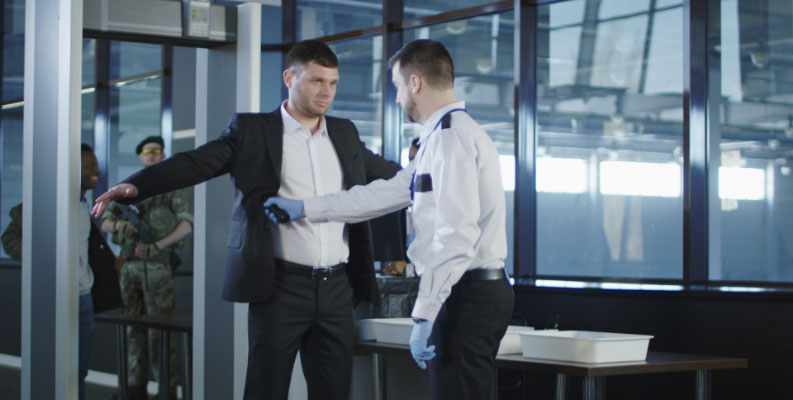 Your ID is obligatory at the airport and is the first thing that is screened at the check-in counter. Once the verification is complete by the officials at the airport, you can simply collect your boarding pass from the check-in counter. One can find all the necessary details on the boarding pass such as the flight number, seat number, and the departure time of the flight.
Or check-in online: Most airlines allow online check-in 24 hours before the flight. This can save you time and hassle at the airport.
Security Screening at the Airport
A series of security checks begins as your check-in formalities are over. You need to comply as follows:
· Place your hand baggage for screening where prompted.
· You will be provided with a tray in which you must drop your cellphone(s), laptop(s), and other electronic items.
· The thumb rule for liquids at the airport is 3-3-3. This means that you are allowed to take three liquid items with you that ought to stay under 3 liquid ounces each.
· While your items are under screening you will be checked personally by an official at the checking booth.
Once the screening is over, you can collect your belongings from the other side of the X-ray machines.
In case of anything unusual is detected at the screening and checks point, you will be taken for further checks by the officials at the airport.
After clearing the screening, you can then proceed to the Immigrations and Customs section in case of an International flight and to the corresponding terminal gate to catch a domestic flight.
Immigration and Customs
An International flight requires you to undergo Customs and Immigration checks. Make sure to carry your Passport and Visa along with other necessary documents. Also, state the purpose of your travel to the immigration officials upon inquiry.
Tip: Always go through the list of contraband items and check the list of prohibited items released by the respective airlines. Some countries want people to carry the local currency with them so make sure to go through the guidelines and requirements published by the destination country.
Airport Lounge/Waiting Area/Shopping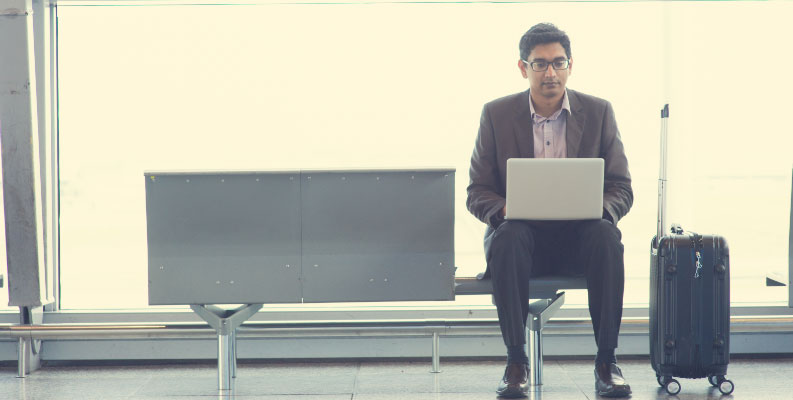 If there is time in boarding, you will require to wait in the waiting lounges or areas provided at the airport. One can also utilize this time for a shopping spree at the airport.
Departure
This is the last step of boarding a fight. Here you need to wait in the boarding area once you reach the final gate. The officials will run a final check on your boarding pass and you will be able to board the plane. Settle in, fasten your seat belt, and listen to the instructions meticulously. If you need any assistance, don't hesitate to ask the airline staff.
Once you're all settled in, relax and enjoy your flight. Listen to music, read a book, or watch a movie to pass the time.
Have fun on your first-ever international flight. Happy flying!