An Odyssey to Shillong and a crisp travel guide for you
Snuggled amid clouds and dreamy landscapes, Shillong offers a guaranteed mystical vacation to travelers longing for a galvanic break from their mundane monotonous life. Commonly referred to as the 'Scotland of the east', it is one of the most sought-after tourist spots in India today. You can plan a dreamy getaway to Shillong for a gripping holiday experience at your beck and call by referring to the details of this informative blog.
Nestled at the highest point, Shillong peak is a beautiful spot in Meghalaya and is visited by thousands every year. The glorious beauty of the place is hard to miss and two eyes are incapable of holding this brimming beauty of a surreal place like Shillong.
How to reach Shillong?

Shillong can be easily reached via air as the nearest airport is in Assam (Guwahati). It is also the cheapest option as Shillong too has an airport but the flight frequency is relatively low hence the flights are costly as compared to flights available for and from Guwahati. Once you reach the airport, you can easily find taxi services to reach Shillong, a picturesque highway awaits you as you proceed towards Shillong from Guwahati airport. The entire ride is heavenly and overflowing with enormous beauty.
Moreover, there is no connectivity as far as railways are concerned. Sorry to break this to you, but there is no railhead in Shillong; hence the above-mentioned way is the best and cheapest to commence your Shillong travel diaries for this upcoming travel season.
Best time to visit Shillong
This is quite ambivalent and tourists who have been to Meghalaya are on the fence about the best time to visit Shillong. The place appears mesmerizing year-round and offers scintillating yet different experiences to travelers each time they visit Meghalaya. One can plan a trip to Meghalaya at any time of the year to succumb to the beckoning natural grandeur galore.
October and November are for submerging in the beauty of the waterfalls that the land has. Spend quality time with your friends or family boating in the serene lakes amid lush greenery and scenic beauty to enjoy orchids and flowers in full bloom.
February to April is the best time for adventure junkies to visit the Shillong land for an adventurous yet lively hiking and trekking experience as most of the treks are open for exploration at this time of the year.
Best places to visit in Shillong
If you are planning a three-day trip to Shillong then it is good for you to know that three days are not enough to truly bask in the beauty of this place. At least, one must spend three nights and four days in Shillong to experience its beauty and natural elegance to their heart's desire.
You can start your excursion in Shillong by visiting the Umiam Lake that lies on the way from the Guwahati airport to Shillong. It is however recommended to book your stay at this place for an enchanting holiday vibe to kickstart your trip. Also one must make sure that they are able to visit the lake before 5 pm as there are entry restrictions after that.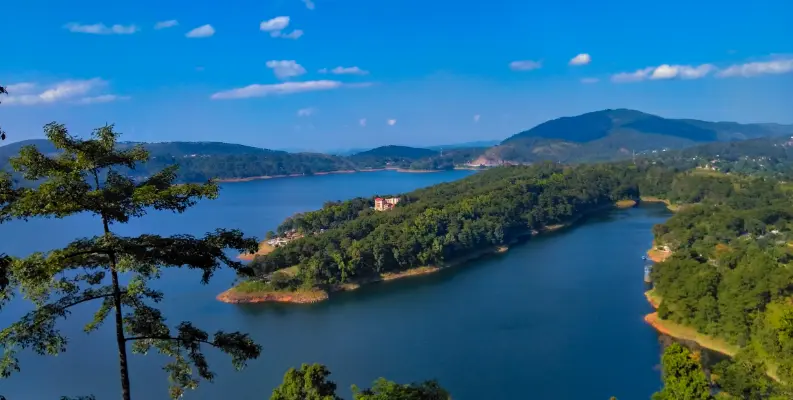 Yet another enthralling lake in Shillong is the Wards Lake, resembling the shape of a horseshoe. You can see glistening views of the garden on the lake, making it one of the most divine lake experiences in Shillong. A paddle boat ride on this lake surrounded by delightful paved walkways and a wooden bridge connecting both ends of the lake makes the entire experience worthwhile for one visiting Shillong for the first time.
The golf Course in Shillong is often compared to the Glen Eagle course in the U.S.A. The similarities are drawn due to its immense beauty and its unique location. The picturesque beauty of the place is nothing short of a scene directly from a fantasy movie. Yet another mesmerizing place in Shillong is Elephant falls. This perennial magnetic waterfall is sure to leave you spellbound. The entry to this waterfall is open from 09 am to 05 pm.
Best places to stay in Shillong
If you are craving a Victorian stay in Shillong then booking a stay at the Aerodene cottage is surely the best option. This place is quite reclusive and offers the best getaway opportunity to tourists coming to Shillong for the first time.
A trip to Meghalaya should include Shillong as a part of your travel itinerary to enjoy the best of the place. Plan your travel today and submerge yourself in substantial and mystic beauty perfumed with unique flora and fauna for a Shillong ride.