Patnitop, Jammu, and Kashmir: Engage in sustainable travel
Sustainable travel might sound like an alien concept in the Indian travel domain, however outlandish it may sound but it is here to stay. Also, sustainability is the key to a bright future and a need of the hour. A destination that one can consider for a sustainable travel option is Patnitop in Jammu and Kashmir.
Skyview by Empyrean, Patnitop, Kashmir
Skyview by Empyrean is a certified sustainable travel destination in Kashmir and is the most popular one too. It has earned the status of being the first ever Champion validated sustainable tourist place in India by the Responsible Tourism Society of India (RTSoI) for abiding by sustainable eco-friendly tourism practices.
A total of four factors govern sustainable tourism in India, namely, sustainability management, socio-economic sustainability, cultural sustainability, and environmental sustainability. Empyrean has earned a great name in the sustainable tourism bracket because of staying streamlined with all the four determining factors mentioned above.
How to reach Empyrean, Patnitop, Kashmir?
Patnitop lies 100 kilometers ahead of the Jammu airport and is situated in the Udhampur district of Jammu. It is a small highland area set on high of a mesmerizing plateau in the Shivalik mountain belt. The overall elevation of the place is around 2024 meters from the sea level, making it a great place to be for experiencing enthralling views for a fantastic hill station vacation.
Things to do in Patnitop, Kashmir?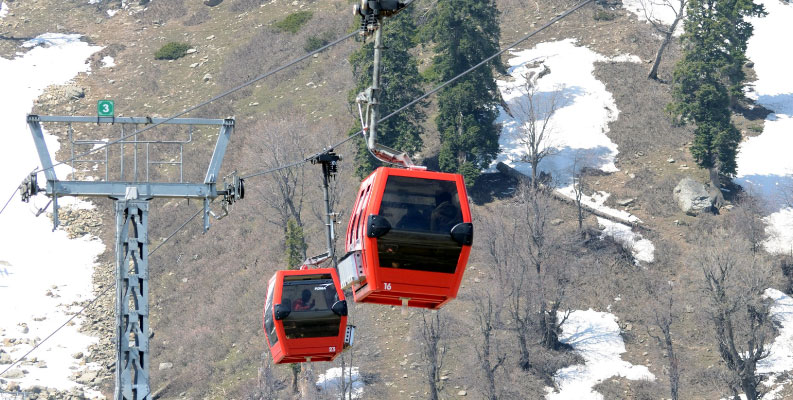 Patnitop is extremely popular for its Gandola rides along with other soft adventure activities that are highly engaging and gripping such as the Magic carpet, introduced for the first time in India, a four-season dry-tubing sledge, custom-tailored biking excursions, hiking, Asia's longest zigzag zipline at 580 meters, and supervised treks along with an agglomeration of F&B options. There is an avenue for multiple other activities that are a part of mountain tourism and adventure.
Skyview Gondola is the highest ropeway (in terms of ground clearance) to abide by the sustainable tourism checkpoints as it turns out the ropeway eliminated the constant dependence on fossil fuels by narrowing down a 35 to 40 minutes road journey to only 10 to 12 minutes thus lessening the carbon footprints to Patnitop. Skyview Gondola pioneered as an environmentally friendly construction owing to the fact that not even a single tree was cut or fallen along the Gondola line to support its construction work.
Sustainability speaks volumes in this project and every aspect of hospitality rings the right notes of sustainability, be it responsibly sourced materials to embracing local traditions, customs, and craftsmen for construction purposes, Patnitop left no stone unturned in being the first to adopt a sustainable outlook and practices as far as the tourism industry is concerned. Moreover, the architectural design of the place embodies a route for rainwater harvesting aimed at preserving natural resources and its thoughtful usage to support sustainable development further. Biodegradable cutlery and the use of digitized menus are a part of this sustainable project in Patnitop. Such practices are the essence of sustainability at the core of the travel and tourism industry.