Experience Wildlife adventure at Ranthambore National Park, Rajasthan
Ranthambore National Park in Rajasthan is the most preferred jungle safari destination among travelers from across India. It has earned a special place in the heart of Jungle safari lovers craving adventures and a jolt of adrenaline amid a dense forest. If you are planning your first visit to Ranthambore National Park, you have come to the right place. Take a look at a terrific itinerary for this National Park in Rajasthan.
How to reach Ranthambore National Park, Rajasthan?
One of the best and easiest ways to reach Ranthambore is via train that alights you at the Sawai Madhopur railway station which is nearest to the Ranthambore National Park as it is just 11 km away from it. People can easily take a taxi or a bus ride to reach the park premises from the railway station. Travelers can conveniently catch a direct train from all the major cities such as New Delhi, Jaipur, Mumbai, etc, to Sawai Madhopur railway station.
Apart from this, travelers are able to reach Ranthambore national park via air and road. The nearest airport to Ranthambore National Park is the Jaipur International airport located at a distance of 160 kilometers from the National Park. Once you are at the airport, you can further book a taxi to reach Sawai Madhopur where the Ranthambore National Park is nestled.
Best things to do in Ranthambore National Park

Travelers coming for the first time to Ranthambore national park can indulge themselves in zillion activities to soothe their adventurous and daring souls. Not only is the Jungle safari at Ranthambore National Park famous but it is also one of the major things to do there. Tiger spotting is a fun activity that you can do in Ranthambore for an amazing wildlife experience amid a lush green and dense jungle.
Moreover, people can also enjoy a hiking experience to the Ranthambore fort present inside the National park. This site is a must-visit for history enthusiasts. You can enjoy this picture-perfect location and this could also be a great spot for taking amazing pictures of your overall Ranthambore excursion.
Hot air ballooning is yet another fun activity that one can explore in Ranthambore. It is an immensely popular luxury experience amid clouds in the sky from where one can spot the entire place with binoculars.
Bird-watching activities are also peculiar to Ranthambore national park and one can spot a diverse range of flora and fauna on their expedition. An excellent Avian population can be found here and is a temptation for bird lovers and watchers.
Ranthambore outskirts delight
The most famous place that falls on the periphery of Ranthambore national park is the Kachida valley. This is known for its surreal beauty and for panthers and bears that stroll around this marvelous valley.
Pay a visit to a one-of-a-kind primordial Trinetra Ganesha Temple
This is a spiritual site in Ranthambore and is dedicated to Lord Ganesha, a revered god in Hinduism. God Ganesha, along with his sons (Shubh and Laabh) and his wives (Riddhi and Siddhi) is worshipped in this temple located in Rajasthan. The temple remains crowded throughout the year; get a chance to immerse yourself in five aartis that are sung all day long at different time intervals.
Nonetheless, people can also enjoy an exotic scenic beauty by paying a visit to Malik lake, commonly known as Malik Talao. It is an apt destination for bird watching and also is home to countless marsh crocodiles.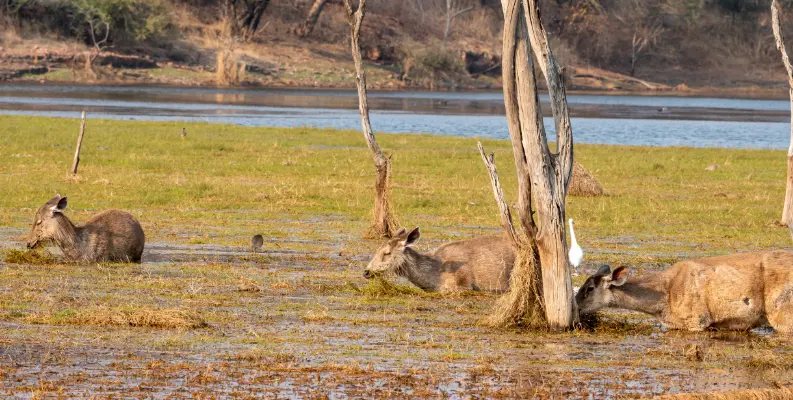 Make sure that you pay a visit to the Akaula region in the Ranthambore National Park for catching scenic glimpses of rare birds and diverse flora and fauna found in the region. You can thus spot many species thriving in the pleasant environment that the Akaula region holds in the Ranthambore national park.
These are some of the best and main spots that one needs to keep on their radar as far as the Ranthambore national park is concerned. The organic wildlife experience at this park is sure to keep you amazed throughout your excursion. The Ranthambore National Park is a paradise for wildlife enthusiasts as it offers an array of adventure activities for adrenaline junkies. So boot up and start a wildlife adventure!