Have you ever traveled to three places at a time?
Well if not then you must visit Puducherry. It is surprisingly amazing as the place shares parts of Tamil Nadu, Kerala, and Andhra Pradesh. Not many know that Puducherry is an amalgamation of four out of five former French Indian territories namely Puducherry, Karaikal, Mah, and Yanam. Out of these, Karaikal, Mah, and Yanam are located in Tamil Nadu, Kerala, and Andhra Pradesh respectively, making it a one-of-a-kind union territory in India.
The French treaty signed between India and France is solely responsible for Puducherry having its own government and radically split geography.
Puducherry's most famous place is Sri Aurobindo Ashram, founded by Sri Aurobindo and Mirra Alfassa (The Mother) in 1926. This place is the major highlight of Puducherry and is famous among travelers flocking to the place from far-off lands.
Places to see in Puducherry
Puducherry is a place of aesthetics and ultra-soothing for an artist's eye. It is not just synonymous with the Sri Aurobindo landmark but has multiple sites that have played a significant role in shaping the history and culture of this place. Here are the best places to visit in Puducherry for an amazing Indo-French experience: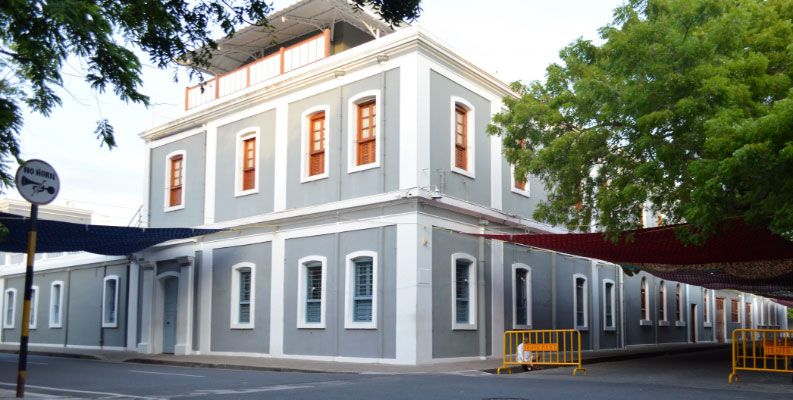 To kickstart your exploration of Puducherry, you must take a stroll of the Sri Aurobindo Ashram to dive into pure bliss and calming tranquility. The place is next to heaven for those who like to meditate and introspect. You can pay homage to the samadhi of Sri Aurobindo in the ashram. The place is a landmark and is on everyone's itinerary list when visiting Puducherry for the first time.
Yet another stunning place in Puducherry is the Sacred Heart Basilica, nestled on the South Boulevard, it is a revered pilgrimage site for Christians across the globe. Not only does this place hold great significance for Christians but is quite popular among people of other religions who come here to catch a beautiful glimpse of the state-of-the-art architecture. Your trip to Puducherry is incomplete without visiting the Sacred Heart Basilica.
Tourists must also consider visiting Arulmigu Manakula Vinayagar Devasthanam, a Hindu temple dedicated to Lord Ganesha remains flooded with devotees from across the nation. The architectural style of this temple is inspired by South Indian Dravidian style construction bejeweled with intricately decorated friezes and stucco figurines. Vinayak Chaturthi is a festival that is celebrated here with great pomp and show. So if you are in Puducherry around this time do visit the Arulmigu Manakula Vinayagar Devasthanam to be a part of a grand celebration.
Plan your day in advance and try to include the French War Memorial on your to-do list to experience an attractive structure located in the heart of Goubert Avenue. This place came into being to honor all those who lost their lives during the First World War. A reconstruction of this place took place in the year 1970. You can find lush green escapades on its periphery and splendid gardens where you can take a tranquil stroll.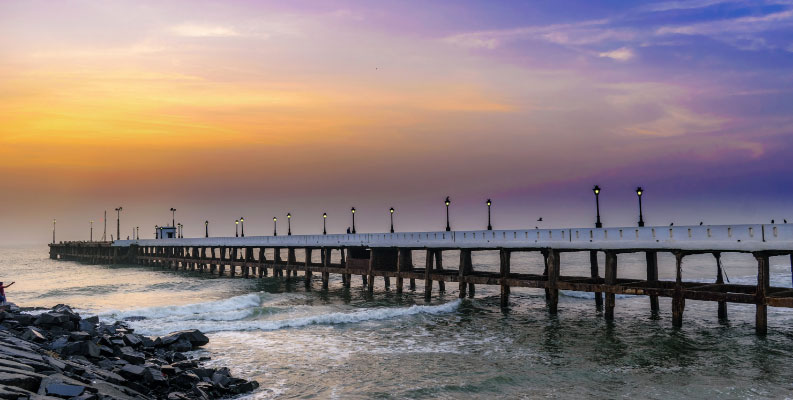 Last but not least, Rock Beach is one place not to miss from the Puducherry itinerary. The sight of the picturesque beachfront view is quite mesmerizing, perfect for a serene promenade, hence the Beach is popularly known as Promenade Beach. Nestled along the Bay of Bengal, Rock Beach offers beauty galore to tourists flocking to the banks of this beach.