Is Pushkar camel fair a hit or miss?
The Pushkar camel fair is not only renowned in Rajasthan but pan India. People from all over India come to Pushkar to experience the colossal cultural grandeur of the tribal communities. Gatherers and nomadic people gather in Pushkar for this fair (Camel fair). The Camel community of Rajasthan, the Raika community, displays a vibrancy and a great festival-like vibe in Pushkar with their gigantic camels. A glimpse of this scene is sure to leave one spellbound.
Best time to visit Pushkar
If you're planning to witness the grand Pushkar Camel Fair you must plan your visit accordingly. The fair is held every year in the first week of November. Rajasthan tourism releases the fair dates, and one can follow the official web page for updated information.
Traditionally, the Pushkar Camel fair's opulence was popular because of the collective participation of the Raika community in livestock trading, and the tribal community of Rajasthan, however, today the fair is quite a spark among tourists for other attractions and reasons as well.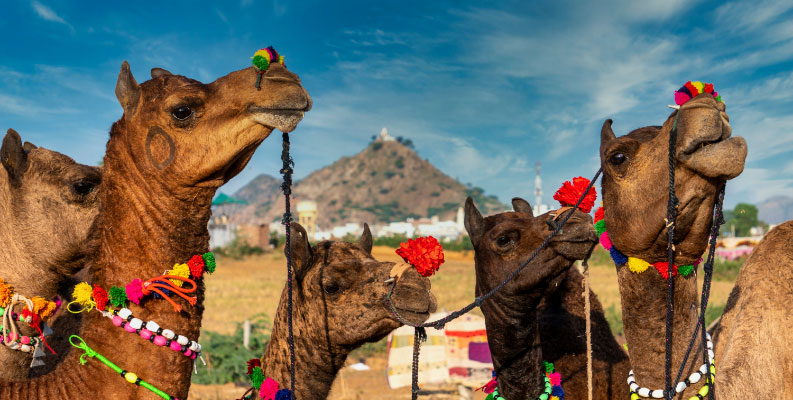 The camel trading by several communities in Pushkar took a back seat and other fun activities came up, engaging tourists from across India flooding the Camel Fair at Pushkar. People now swarm the place to cherish competitions like 'Matka Phod', 'Longest Moustache', and 'Bridal Competition'. These are some of the most hyped activities in the Camel Fair whereas, selling and buying livestock has taken a subsidiary role today. The impact of this depletion on the Raika community is quite worrying.
How to visit Pushkar?
Pushkar is perfectly connected via road and it would take somewhere around 8 hours (maximum) via NH 48. On the other hand, if you take another route via NH 152 D, it would take 9 hours to reach Pushkar.
One can also choose to travel via train as the Pushkar Terminus (Pushkar Railway station) is located in Ajmer and predominantly serves the Pushkar pilgrimage.
If you are interested in traveling to Pushkar via flight, it must be noted that Jaipur is the nearest airport. Tripify.com offers the best flight deals when it comes to flying. From Jaipur, one can easily get a taxi to Pushkar for an amazing experience of a lifetime.
Best things to do at Pushkar Camel Fair
Apart from a zillion activities, there are various things that tourists can appreciate at Pushkar Camel Fair. Spend the night in the lap of grandiosity by indulging in a splendid camping experience in a luxury-tented camp. A rich camping experience awaits you and is one of the things that you should not miss in Pushkar.

Moreover, this one-of-a-kind carnival is surely exciting, the entire spectacle of color and activities galore is quite fancy among travelers from across the globe; you can enjoy a plethora of recreational activities at the Pushkar Camel fair. This epic fair welcomes travelers, herders, farmers, etc from all across Rajasthan.
Is Pushkar Camel fair a hit or miss?
Concludingly, there is no denying the fact that Pushkar's Camel Fair is an extraordinary event that takes place every year, bringing massively new and marvelous cultural things to the table. If you are a fan of a wonderful carnival and would like to be a part of this gigantic fair, you cannot dare to miss this festival in the first week of November. Happy travels!