Nainital: The Lake Paradise of India
Famously known as the lake district, Nainital rests high in the Kumaon region and holds a dear place in the heart of city dwellers and tourists from across India. The region is famous for its picturesque lake and ebullient atmosphere. This hill station is the most preferred weekend getaway from Delhi. Nainital is the perfect location to loosen up and get your spirits dancing as the place offers multiple options for rejuvenation. If you are feeling overburdened with colossal work up your sleeve, you can definitely rekindle and revitalize yourself by planning a swift getaway to Nainital.
My own experience
Quite recently I had the chance to visit the lake paradise of India and undoubtedly, I can say that it has been the most valued experience of my life. Not only was the place brimmed with beauty but there was a serene comfort in the breeze of the hill that comforted my exhausted soul. The local customs and experiences I had, have been the most cherished ones as far as my travel diary is concerned. The bliss of doing the boat ride in the Nainital lake, sharing the lake periphery with diverse flora and mangrove trees is unparalleled.

Eating experiences have been nothing short of a trip to heaven, be it the juice-dripping hot momos, a heavenly sip of the dark chocolate amid the onshore breeze blowing away from the lake body engulfing the entire landmass in its chill, or a peaceful saunter on the mall road or Thandi Sadak indulging in creamy ice-creams, everything remains crisp fresh in my head till date. The experience had been extremely overwhelming so much so that I have initiated plans of visiting Nainital yet again for the coming weekend.
Best things to do in Nainital this season
If you are lucky, you can spot fresh flakes of snow dropping from the sky if you plan on visiting Nainital in the upcoming fall season. January is the time when this region experiences snowfall and transforms into a captivating snow-laden queen. You can simply recharge in the lap of mother nature by relaxing at your resort. If possible and available, you can try staying at the Sakley's Cottage near Gurney House in Emeily cottage compound Ayarpatta for an incredibly English stay to simply rest in the bare beauty that nature offers to humankind in the lake district of Uttarakhand. You can get a superior room here for around INR 5000 (excluding taxes and breakfast).
The entire town is covered in colonial architecture rendering it another level of pristine touch to its overall resplendence. Nainital is full of various touristy places that one can visit such as the Eco cave gardens, Naina Devi Temple, Tiffin Top, Nainital Lake, Mall Road, Kilbury, Snow view point, Nainital Zoo, Governor's House, etc.
How to plan a weekend getaway to Nainital?
Traveling to Nainital is fun in itself as the most lively and equipped national highway connects it to Delhi. Also, a trip to Nainital would offer a scintillating road trip experience to travelers making it one of the most popular vacation spots in India.
Train and buses are readily available for Nainital as this is one of the most searched and booked honeymoon destinations in India. You can board a train from New Delhi (Ndls Kgm Shatabdi Train 12040) to alight at Kathgodam as this is the last accessible and nearest railway head for Nainital. Moreover, buses for Uttarakhand are easily available from Delhi (Anand Vihar and Kashmiri gate ISBT).
Taking a flight is yet another travel option for Nainital as Pant Nagar airport is approximately 70 km away. Taxi services are available from here for Nainital and the services would include hotel drop-off and sightseeing.
Local handicrafts and souvenir
Nainital is best known for its candle manufacturing and you can find multiple spots on the main mall road selling candle souvenirs that you can buy as a keepsake or gifts for your loved ones from your Nainital trip. Furthermore, local handicrafts also include things made from Pine Art craft. Make sure you stroll along the Tibetan Market in Nainital for an amazingly authentic shopping experience as far as woollen items are concerned.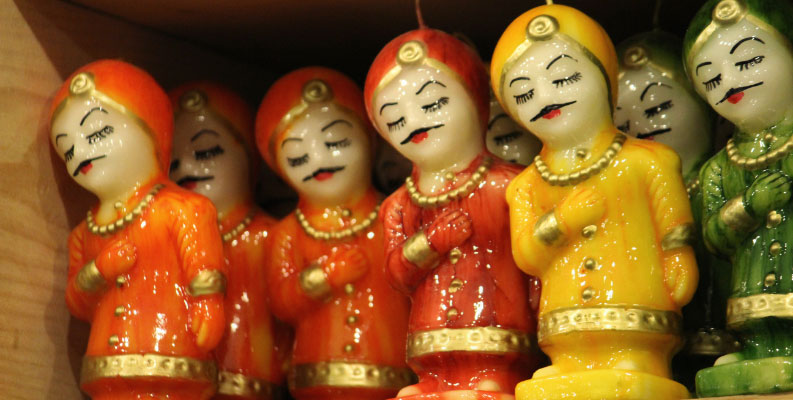 Best time to visit Nainital?
Nainital, home to various convent boarding schools, is accessible and favorable throughout the year and remains jam-packed on weekends owing to its proximity to Delhi and other flatland regions. Nonetheless, it is recommended to visit Nainital in the summer months for a pleasant trip as the weather is highly welcoming. Moreover, if you are a snow lover and crave to get a glimpse of a snow-capped mountain, it is best that you visit Nainital in January or February.
Nainital is the queen of hill stations in India and its lake adds a crisp sublime touch of beauty to its overall grandeur. If an intoxicating boat ride is what you crave, Nainital is the place to be. Start packing and get going. Happy vacation to you!