Off the road on Manali-Leh Highway!
Where there is a will, there's a way....as quoted by George Herbert, stands true and gives immense hope to one to fulfill their deepest desires. This also goes true for planning a mountain ride to one of the most gorgeous destinations for an amazing road trip. Here, we are pointing towards the off-the-road experiences of traveling on the Manali-Leh highway. A journey of a lifetime and one that you cannot erase from your memories till you breathe your last.
The magnetic aura of the Manali-Leh highway is sure to mesmerize your soul and the beauty that the place holds is sure to blind you. Well-trodden roads amid colossal snow-laden mountains hugging you from both sides is nothing short of a surreal experience for a venturesome.
Planning a road trip on the Manali-Leh circuit can get ultra challenging with tons of things to keep in mind if you are traveling via a two-wheeler on this dangerously beautiful highway. Car trips can be taxing as well and that's why we are here to help you plan your excursion via adventurous, passable, impassable, or orbital roads on the Manali-Leh circuit for a super enthralling road trip experience.
The coruscating views of the Himalayas in Himachal Pradesh and Ladakh can be best experienced and felt by taking this road trip. A Manali-Leh road trip guide, supported by some vital personal experiences is sure to render a helping hand as far as creating one's own experiences of the Manali-Leh road trip is concerned.
Manali-Leh circuit Journey

The Manali-Leh highway runs at an altitude of 14000 feet (approx.). Travelers can commence their journey for the Manali-Leh highway at Manali by traveling to Rohtang Pass, a pass that connects the tribal valleys of Lahaul and Spiti to Kullu valley. Rohtang La is 51 km away from Manali and rests at an altitude of 3980 mtrs. After covering Rohtang La, adventure lovers can embark upon their journey towards Baralacha La (this one rests at an altitude of 4890 mtrs.) and is a connection between the Lahaul district of Himachal Pradesh and Ladakh district of Jammu and Kashmir. The foothills of the Baralacha La pass accommodate the third-highest lake in India and the 21st-highest lake in the world, Suraj Taal lake. The mesmerizing beauty of the place at an altitude of 4883 mtrs, not only is fascinating but fleeting; a divine solitude succumbs you in peace and tranquility.
Further, one needs to tread along Gata loops, the adventurous series of 21 hairpin bends that stretch for 7 km straight and allows you to reach from 4190 mtrs altitude to 4630 mtrs. After crossing the Gata Loops, travelers can reach an inclination of 4740 mtrs at Nakee La. You will not find a soul or a tree on this pass and this is the third of the five passes that fall on this route.
The next stop in Manali to Leh circuit is Lungalacha La. This is the place where you can experience some breathlessness sinking in as you move further. Lungalacha La would further allow you to ascend to an altitude of 5079 mtrs.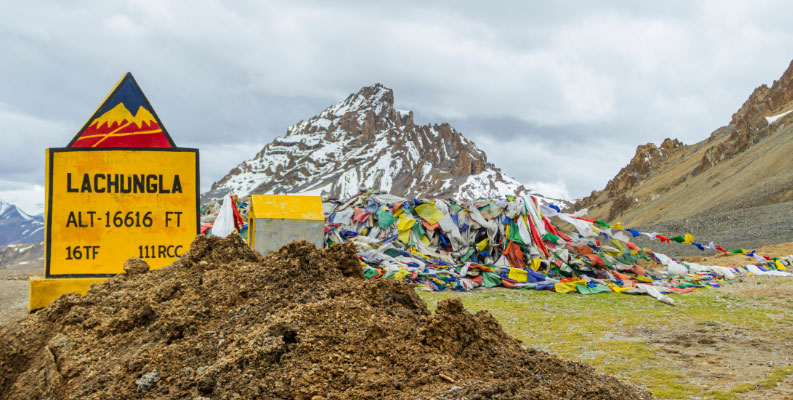 The next destination in this journey is Moore Plains. This place is famous for its flat bedded plains stretching along the Manali-Leh circuit for about 30 to 35 km of metalled road.
Last but not the least, comes the Taglang La Pass on the Manali-Leh highway. This is the highest pass as it rests at a whopping height of 5823 mtrs and is absolutely astounding. You may find yourself captivated by the immense natural picturesque beauty, but there is a note of caution that each one must pay heed not to spend a lot of time on this pass. Crossing this pass would allow you to reach Leh, concluding your road trip from Manali to Leh.
Best time to visit Manali-Leh Highway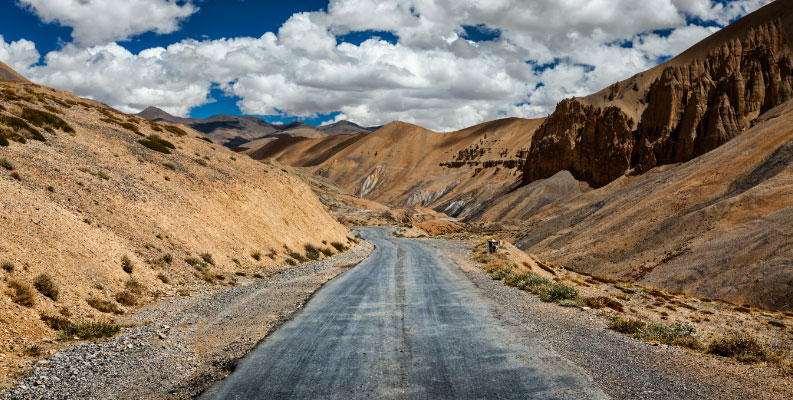 The month of May marks the opening of two vital passes on the Manali-Leh Highway. Rohtang pass opens in May and Baralacha La usually opens in May end. The Manali-Leh highway opens for a short span, between May and September and this is the only time period when the roads are motorable and accessible for covering the distance between Manali and Leh. June is considered the most unpredictable month for traveling to Leh via the Manali-Leh highway because of rainfall-triggered landslides. September is the best month to travel to Leh via the Manali-Leh highway to witness an enticing array of picturesque natural beauty in the hills, to an altitude of more than 4000 meters covering Himachal Pradesh and Jammu and Kashmir.