Paragliding adventures: Bir Billing, Himachal Pradesh
Who doesn't want to fly in the sky? If not literally, paragliding is such an adventure sport that would allow you to experience flying in the clouds. Planning a trip to Bir Billing is particularly not a bed of roses which is why we are here to help you. Here is a great itinerary guide that you may stick to in order to experience Bir billing and paragliding to the fullest.
How can I go paragliding in Bir Billing, Himachal Pradesh?
Travelers wanting to try paragliding for the first time can surely plan a trip to Bir Billing, a small town in Himachal Pradesh also famously known as the 'Paragliding capital of India'. It is one of the best places offering wide valley views that are sure to leave you mesmerized for life.
Best ways to travel to Bir Billing

If you are planning a trip to Bir billing there are various travel options available to reach there for an amazing paragliding experience. Roads are well connected to Bir Billing thus travelers can travel via a car or bus. The car would take around 14 hours to reach Bir Billing from New Delhi via NH 44. Another route via NH 152 D is also available to travel to Bir Billing, Himachal Pradesh. Nonetheless, this route is free of a toll but is longer than the former one as it would take around 15 hours of travel to reach the destination.
Moreover, the Kangra-Dharamshala airport is a domestic airport in Dharamshala, yet another town in Himachal Pradesh. One can find flights to Himachal to travel to Bir Billing for the best paragliding adventure. Chandigarh airport is also the nearest to Himachal Pradesh. You can get a taxi from there to reach Bir, Himachal Pradesh.
Buses and trains do run to Dharamshala from Delhi and one can reserve their spot to travel to Bir Billing, although the train or bus will drop you at Dharamshala and you can get a taxi from there to Bir Billing.
Ultimate Paragliding experience
Travelers need to make reservations for paragliding and the reservation counters are present in Bir. Reserve your spot and you will be taken to yet another spot (takeoff cliff) with your group via a taxi. Multiple tour packages also include a trek to the takeoff site but if trekking is not a shoe that fits you then there are cabs available to take you and your pilot to the takeoff site for paragliding. You may select any convenient option for starting your paragliding journey.
Cost of Paragliding in Bir Billing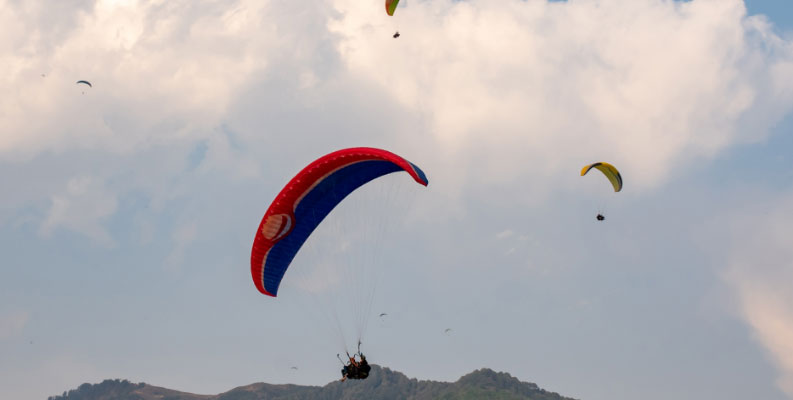 Paragliding in Bir Billing would cost you somewhere around 1500 to 2500 (inclusive of the cost of the pilot) per person, depending on the time or duration of the flight you select. Two flight duration options available for paragliding in Bir Billing are as follows: 15 and 30 minutes. The price also includes the cab service that would take you to the takeoff site for an enchanting paragliding experience.
Best places to eat in Bir Billing
There is no dearth of cafes and german bakeries in Bir Billing, you will be spoilt for choice. Make sure you try the food at the June 16 cafe for an amazingly delectable foodgasm. The menu is elaborate and you can find various delicacies that are sure to leave you entranced. Moreover, there are multiple German Bakeries in the area serving authentic delicacies to tourists and locals alike.
Bir Billing is a renowned destination that offers delightful valley views. One trip to Bir Billing is sure to leave you wanting more and raised expectations. You can reserve in advance, however, it is highly recommended that you make paragliding reservations once you are in Bir Billing as abrupt weather changes are common for Bir Billing. Happy flying!