Bolzano Unveiled: A Traveler's Handbook to Embrace the Dolomites
Follow this space for Dolomite Delights: Exploring Bolzano, Italy's Enchanting Alpine Gem.
Avoid the last-minute hassle and plan your international vacation by jotting down a pre-planned itinerary. This blog right here will help you do the same so without any further ado let's get started.
Bolzano, a must-see hidden gem of Europe, is commonly called the land of Dolomites that remains snow-dappled; a mesmerizing glance at the wide blue yonder is quite surreal here. Nothing beats the beauty of this vibrant capital of South Tyrol nestled between Innsbruck to the north and Trento to the south.
Italy is known for its quality of life and Bolzano nowhere disappoints with its bubbliness and captivating youthful charm. Not only this but also the city holds enthralling natural splendor for tourists and locals alike. One word of caution – stay guarded from the Bolzano's Dolce Vita vibe which is wholly infectious.
It is better to have a plan in your back pocket for a fantastic holiday experience, especially in terms of taking your maiden foreign trip. Things may sometimes get a little haywire, but to avoid this situation here are the top 5 things to do in Bolzano.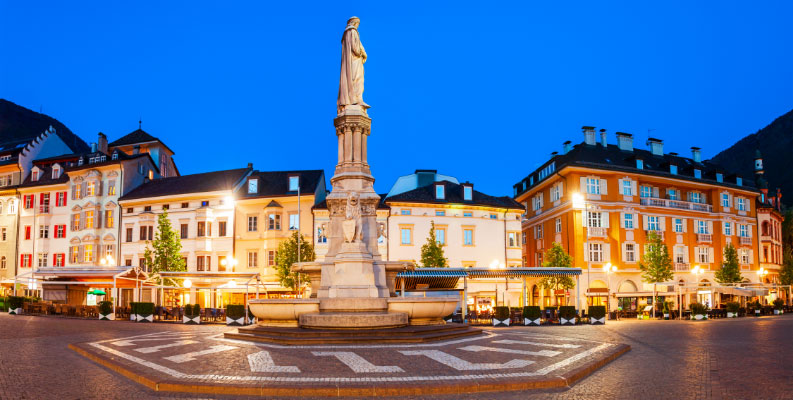 Discover the City's Historic Center: Waltherplatz or more commonly known as Piazza Walther, is a historic center famous for holding Italy's largest Christmas market, also known as the Capital of Christmas. The happening town square, flooded with sun-kissed cafes will lure you into the dreamy mocha experience of your life. Make sure to give Loacker Cafe a shot for a heavenly sip. The statue of Walther Von der Vogelweide, a renowned poet from the middle ages is just some steps away and is a historic sight to behold. One can get a sight of an impressive fountain work encircling this magnificent statue.
Moving further, one cannot miss the glimpse of a Gothic–Romanesque Cathedral, the largest in all of South Tyrol. The structure was constructed in the 12th Century, however, it unveiled its gothic form in the 14th Century. The structure is a fantastic work of art and holds an ornately patterned roof. Moreover, one can also gawk at the spellbinding frescoes dating back to the 1300s, and is a prized possession for medieval art lovers.
Make way for some deliciousness
A scrumptious meal would be highly rewarding after taking in so much history and culture on A Visit to BOLZANO. Our recommendation is Wirtshaus Vogele. This place speaks volumes when it comes to an authentic South Tyrolean lunch. Locals know this place as a cultural gem with a cozy atmosphere and a welcoming ambiance. Another top recommendation to add to your 'tummy list' is Stadt Cafe and Restaurant which serves the best South Tyrolean food. You will be amazed at a wide variety of flavors and rich delicacies.
Immerse oneself in a Historical Retreat by exploring extensively in Via Dei Portici to eventually come across The South Tyrol Museum of Archaeology famous for holding 'The Otzi', an astonishingly well-preserved corpse, almost 5300 years old. Strange, right? What is odd is that Otzi's had 61 tattoos across his body. A word of recommendation for Otzi is that you must pre-book online to see this marvel.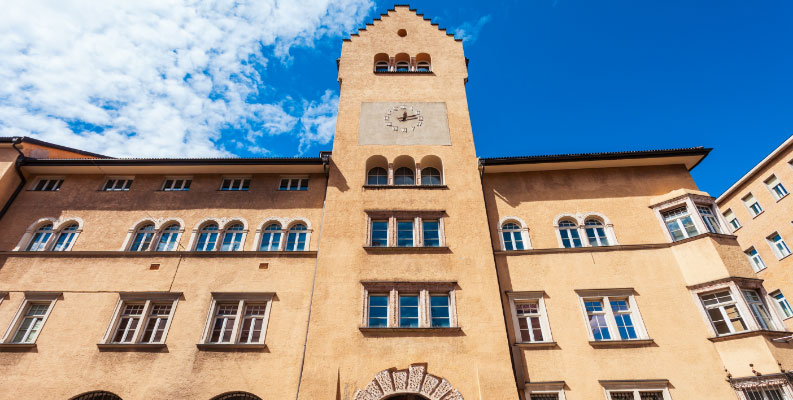 Noteworthy to mention, if you are a history aficionado, you must rove across The Wines and Castles of Bolzano, marvelous creations for mankind to gawk at! A great place to start would be The Castel Roncolo (Schloss Runkelstein) commonly referred to as The Painted Castle, which is a well-preserved, illustrated beauty from the 13th Century. A stroll across this will allow your eyes a panoramic view of ultra-mesmerizingly serene Bolzano. And lastly, but not insignificantly, here are other castles to consider: Messner Mountain Museum Firmian, located within Sigmundskron Castle, and Schloss Rafenstein.
Bolzano: The Gateway to the Dolomites, is quite dearest to history buffs and never disappoints with its exuberant culture and rich history always ready on the platter, stunning enough to leave one bewitched.