Srikhand Mahadev Trek: Into the Wilderness and Closer to the Adi-Dev.
Trekking is one of the most thrilling activities that one could do in the mountains of the Himalayas and one such activity is hiking to Srikhand Mahadev. It surely is once in a lifetime experience for trekkers. The Srikhand Mahadev shrine is nestled in the Himalayas at an elevation of 18,570 feet and is also considered to be a difficult trek in the Himachal Pradesh region. Visiting this place is sure to fill you with extreme positivity and calmness not to forget the right jolt of adrenaline rush. The tranquil yet picturesque surroundings are sure to leave you spellbound as you try and absorb everything all at once at this ord Shiva's highest shrine.
If you have plans of visiting Himachal Pradesh, you should surely plan your trip to Srikhand Mahadev temple for an exceptional spiritual yet engaging experience that would have a balmy effect on your nerves and senses.
What do you need to know?
The government of Himachal Pradesh has come up with an obligatory registration process for trekking to Srikhand Mahadev Kinner Kailash trek. Since this trek is not for the faint-hearted and is difficult, it is thus not permitted for people below the age of 18 and over 60.
One also needs to obtain a medical certificate before registration as this is mandatory for the documentation process to begin trekking Srikhand Mahadev Kinner Kailash yatra. If you cannot fulfill the outlined requirement, you could be drummed out at any of the base camps made available on the trek.

The trek remains open for a short time so make sure you are aware of the opening and closing dates to avoid any inconvenience. The tentative time of opening is the end of July till the second week of August. So check the official Himachal tourism website for further details and the registration process for trekking Srikhand Mahadev.
Packing also plays a vital role hence it is advised to pack lightly for this trek. There are certain things that one must carry with them in order to have a smooth experience. The first vital thing that you should carry is water. As you march past the mountain, the area becomes scarcely populated hence there are no facilities available and as a part of preparedness, one should carry their own stuff and things for visiting the Srikhand Mahadev shrine.
Winter-appropriate clothes along with some first aid and common over-the-counter medicines should also be in your trekking bag to begin your journey on the right note. Make sure you carry only the most necessary items as Srikhand Mahadev is a difficult trek and a bag that feels like a big pile of stones is not going to make it any easier.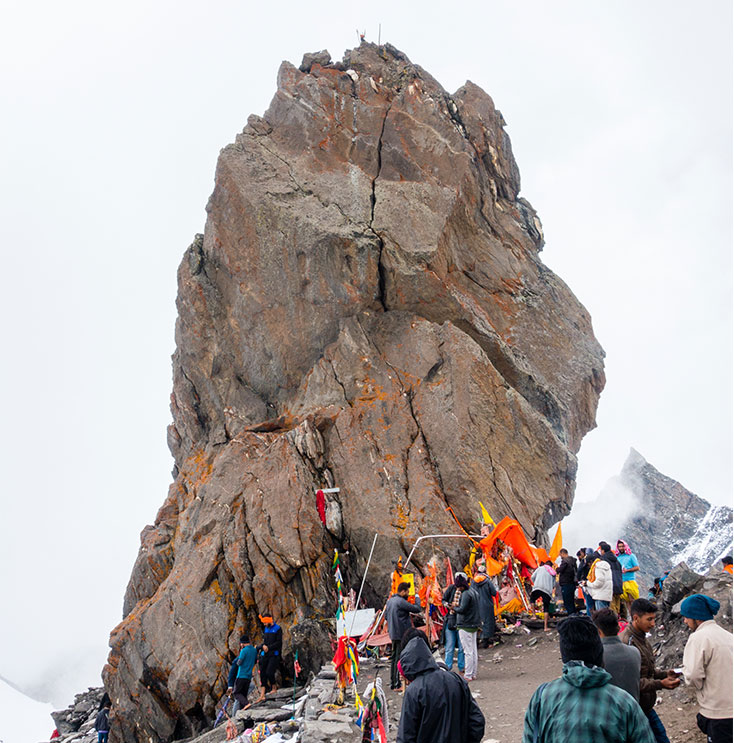 Best Time to visit Srikhand Mahadev
The trek to Srikhand Mahadev is accessible only during the months of June and July. One can plan their trip around this time to experience the aptest weather conditions necessary for lowering this trek's difficulty level. The weather remains perfect for trekking at this time as snowfall is quite bearable. Also, the temple remains open, allowing devotees to pay their highest tributes to Lord Shiva.
How to reach Srikhand Mahadev temple?
Himachal Pradesh has good air connectivity. If you are planning a trip to Srikhand Mahadev then you can consider the flight option to Bhuntar airport (KUU) also known as the Kullu-Manali airport. This is a domestic airport in Himachal Pradesh and is well-connected with other Indian cities. Flights are readily available for Himachal Pradesh, owing to its popularity among travelers from across the nation. From here on, you can book a private taxi or cab to reach Jaon village, the starting point to begin the Srikhand Mahadev trek. All hail Har Har Mahadev!