The Guide to Water Sports in Naukuchiatal, U.K.
Kayaking and Canoeing are not so alien terms today, all thanks to the recent surge in inclination towards water sports activities in Naukuchiatal, U.K. Naukuchiatal is a small lake hill station, nestled about 26 km away from Nainital, Uttarakhand, and is quite famous among tourists and locals alike for its wide range of water sports adventures and activities.
Naukuchiatal, alias 'the lake of nine corners, is a quaint lake town popular for kayaking, canoeing, water zorbing, boating, hang gliding, and paragliding activities. If you are an adventure lover, Naukuchiatal might amaze you with its array of adventure sports amid surreal scenic beauty. One can find amazing recreational activities galore in Naukuchiatal for rejuvenation.
Planning a trip to Naukuchiatal? We are here to help and suggest a great itinerary that you can follow for a memorable vacation with your family or friends. But before jumping straight to the itinerary, let us first consider some of the best ways to reach Naukuchiatal, Uttarakhand.
Mode of Transport
Travelers can travel to Uttarakhand via three modes, namely, air, railway, and road. The nearest railhead to Naukuchiatal is Kathgodam. Early morning regular Shatabdi train leaves from New Delhi Railway station at 6:20, covering a total distance of 282 km to finally reach the destination station (Kathgodam) at 12:17. An advance reservation is highly recommended for this train. You can in fact select air transport to reach Naukuchiatal. Start your journey from IGI New Delhi to get off at Pant Nagar airport or Bareilly airport (both are functional and the nearest). Finally, book a taxi service from the airport or the Kathgodam railway station to reach Naukuchiatal or Nainital.
If you fancy a car ride up to Nainital, then you can travel via your own vehicle, deep appreciation for the passable road conditions and you can enjoy beautiful scenic rides and mountain views galore, adding an enticing touch to your overall journey on your way to Naukuchiatal, Uttarakhand.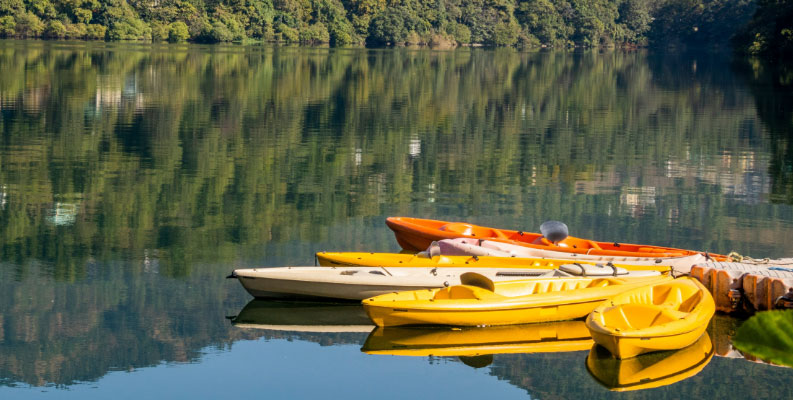 Things to do in Naukuchiatal, U.K.
Amazing kayaking and Canoeing experience await you at Naukuchiatal. One can book a splendid Kayaking or Canoeing water sports experience for under INR 500 per person, you can always bargain to get the best price possible.
Other activities that you can relish at Naukuchiatal are as follows: water zorbing, boating, hang gliding, and paragliding as a form of rejuvenation.
Where to Eat?
Multiple food joints, places, and cafes are available in the vicinity of the Naukuchiatal lake and could be visited for tasting some scrumptious food and authentic delicacies amid cool breeze blowing from the lake towards the shacks and eating joints set up near the water body in Naukuchiatal.
You can taste freshly prepared 'Kadi-Chawal or Rajma-Chawal', an Indian staple food at eating shacks and joints set up at every nook and corner in Naukuchiatal lake premises.
A boat ride encapsulated in a fresh breeze over the lake is quite bewitching and sure to mesmerize your mind, body, and soul. Naukuchiatal also holds several pristine places where one can plan a delightful staycation away from the hive of city activities. Take your backpacks and drive to Naukuchiatal for an amazing upcoming weekend amid hills, natural resources, scenic bare beauty, and a pious lake.