The Only Guide You Need for Vacationing at Mount Abu
Welcome to Tripify's ultimate guide to vacationing at Mount Abu!
It is the one and only serene and picturesque hill station nestled in the Western Rajasthan state near the Gujarat border. Because of its location in the Aravallis, Mount Abu experiences a relatively cold climate throughout the year.
Known for its breathtaking landscapes, tranquil lakes, and ancient temples, this picturesque destination offers a respite from the scorching heat of the plains. Join us on a virtual journey as we unravel the hidden treasures of Mount Abu.
Day 1: Arrival and Sunset at Honeymoon Point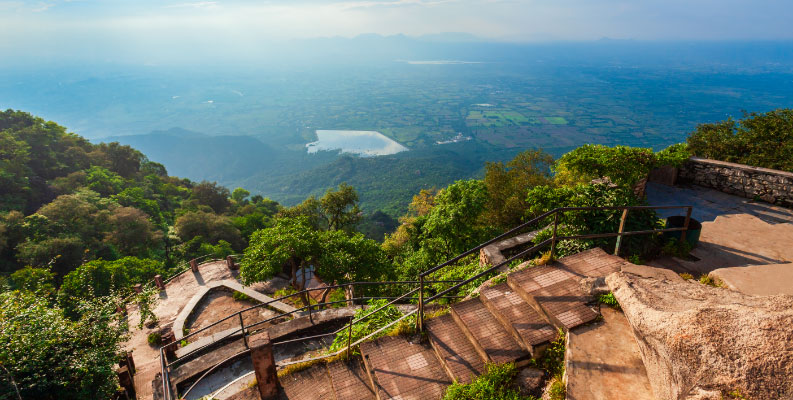 Upon arriving at Mount Abu, take in the cool breeze and panoramic views before heading to Honeymoon Point. This vantage point offers mesmerizing vistas of the sunset, with the sky turning into hues of orange and purple. It's the perfect spot to unwind and take in the stunning views of the surrounding jungle. And if you're lucky enough to be there on a clear night, you'll get the best ever view of the stars and planets, completely free from any light pollution. So, grab your camera and your loved ones, and get ready for an unforgettable experience!
Day 2: Exploring Dilwara Jain Temples
Mount Abu is not just a paradise for nature enthusiasts but also a place of religious significance. Embark on a spiritual journey by visiting the renowned Dilwara Jain Temples in Mount Abu. These architectural marvels will leave you awe-struck by their intricate marble carvings and detailed craftsmanship. Each temple has its own unique charm, but the ornate ceilings and delicate sculptures in the Vimal Vasahi Temple cannot be missed.
Day 3: Nakki Lake and Toad Rock
Start your day with a visit to Nakki Lake, surrounded by lush greenery and rocky hills. Take a peaceful walk along the lake and spot fish before heading to Toad Rock, a famous rock formation resembling a toad about to jump into the lake. Don't forget to bring your best smiles, strike a pose, and let Mount Abu work its magic as your personal photographer's paradise! Say cheese!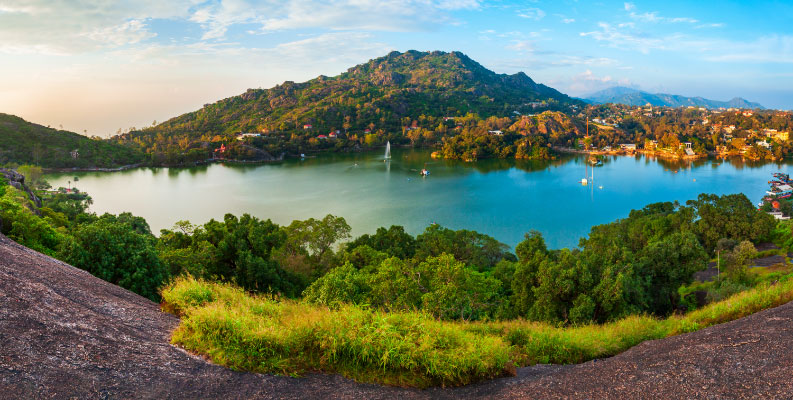 Day 4: Guru Shikhar and Sunset at Sunset Point
With a sense of adventure in your heart, you can embark on a hike to Guru Shikhar, the highest peak in the Aravalli Range. As you reach the summit, you will be rewarded with breathtaking panoramic views of the surrounding valleys and the golden-hued landscape stretching as far as the eye could see. Later, make your way to Sunset Point, where one could marvel at the spectacular sunset painting the sky with vibrant colors.
Day 5: Mount Abu Wildlife Sanctuary and Achalgarh Fort
Delve into the natural beauty of Mount Abu by visiting the Wildlife Sanctuary. Walking through lush forests and spotting a variety of wildlife, including deer and monkeys, is going to be an exhilarating experience. Later, head to Achalgarh Fort, a historic site known for its ancient Jain temples and the picturesque Mandakini Lake. The fort offers a glimpse into the region's rich history and stunning architectural remnants.
Day 6: Shopping and Local Cuisine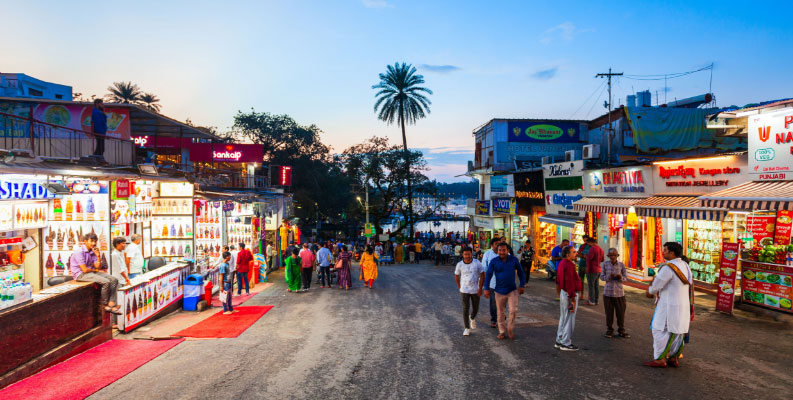 Before bidding farewell to Mount Abu, indulging in some shopping at the local market is one of the highly recommended activities. The vibrant handicrafts, traditional textiles, and Rajasthani souvenirs will surely catch your attention. Additionally, one also needs to savor the flavors of Rajasthani cuisine at local restaurants, and feast on dal baati churma, gatte ki sabzi, and other regional delicacies.
Mount Abu is a peaceful retreat amidst nature's splendor, offering unforgettable experiences at every turn. Whether you're a nature enthusiast, a history buff, or seeking a spiritual journey, Mount Abu has something for everyone. Come and experience the magic for yourself!