Visiting Querétaro, Mexico: The Ultimate Guide (Fun Things to Do)
Check out this space for the best things to do in Querétaro, Mexico.
Querétaro is regarded as Mexico's hidden gem and is a perfect place to spend quaint holidays with your family or friends with spectacular views. The chill vibes you get here are treasure-worthy, topping Querétaro on everyone's bucket list for Mexico exploration is concerned. If you would like to tick it off your bucket list, this guide is surely going to help plan your vacation as you like.
To begin with, let us first see the best time to visit Querétaro, Mexico. October to March is the most ideal time to visit to see it in full bloom displaying varied mesmerizing colors. It is also the peak season for Querétaro tourism and the place remains swarmed with people from all over the world.
You wouldn't find extreme temperatures or scorching heat in this desert land during this time of the year which makes it the perfect time for exploration.
How to move around in Santiago-de-Querétaro?
Officially, in Santiago-de-Querétaro, the city center is quite walkable, and for longer trips, one may also choose ride-share applications such as DiDi or Uber. There is a public bus system as well for touring the city.
Where to Stay in Querétaro?
Tourists must plan on staying in Querétaro City Center as the site has been declared as UNESCO world heritage site and one can see a bustling city scene amid the backdrop of a picturesque town. Multiple options for stay are available in the city to choose from, where you can experience authentic Querétaro's colors and flavors.
Must-visit places in Querétaro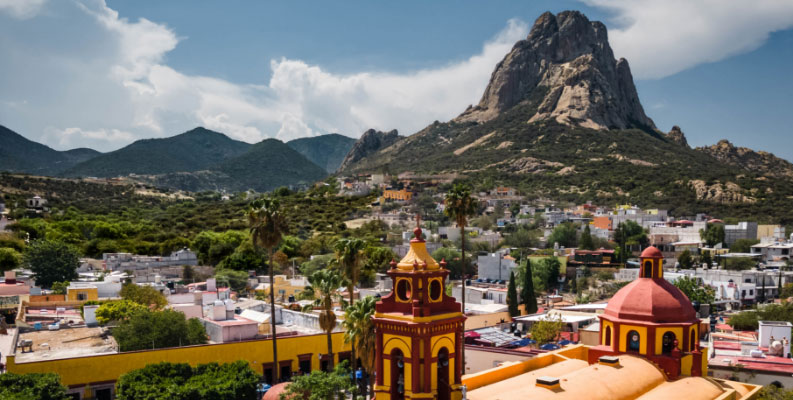 Travelers must keep at least three days aside for Querétaro to submerge in its cultural opulence. It is a unique destination in Mexico and to kickstart your Querétaro excursion, the first place you must visit is Peña De Bernal. This remains one of the tallest monoliths (third highest on the planet, to be precise) in the world, stretching up to 433 meters from the ground, making it one of the most popular destinations to see in Querétaro among travelers from across the globe. Hiking this monolith is a 45-minute business and offers the best view of the entire place. You can find three distinct routes available to hike this monolith.
The next best place to visit in Querétaro is Sierra Gorda, one of the most amazing UNESCO world heritage sites known for its mesmerizing display of ecology and is known to be the one and only city in the biosphere. This place offers the perfect off-the-beaten track experience in Mexico for tourists coming here for a thrilling adventure. It is quite famous for its alias 'green jewel in the heart of Mexico'. One can spot a little of everything here in Sierra Gorda. A trip to this place is sure to leave you enchanted and asking for more.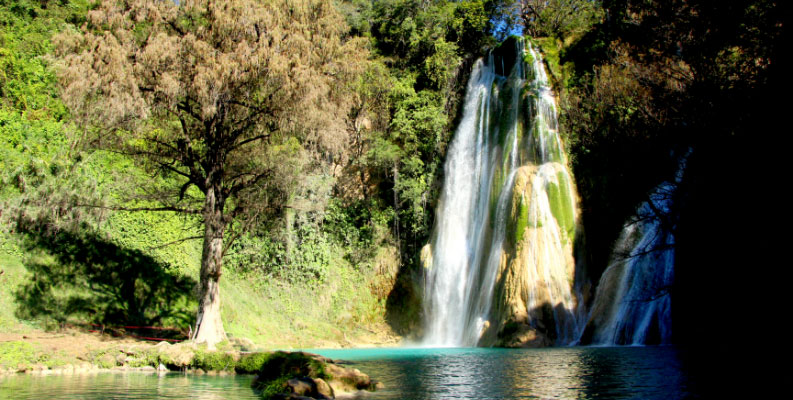 Yet another UNESCO World Heritage site located in downtown Querétaro is Centro Historico, this place is brimming with archaic yet splendid colonial architecture and holds an incessant wealth of monuments. A stroll downtown is sure to leave you spellbound by its majestic architecture bejeweled with rich heritage and culture.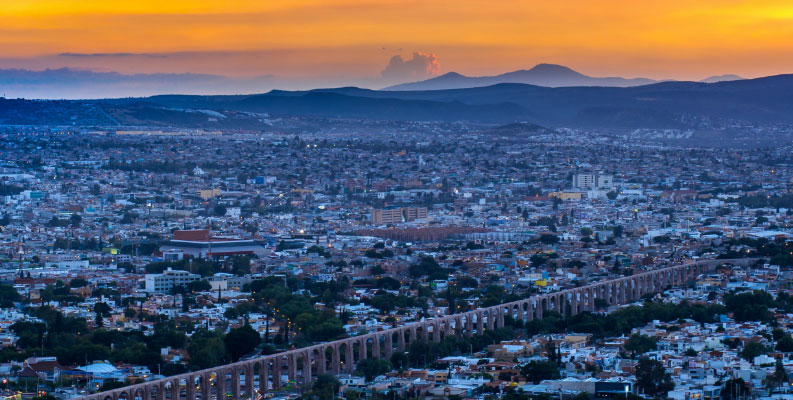 Not least of all, there is another place in Querétaro that speaks volumes when it comes to ancient history and it is the 74-arched Aqueduct, built in the early 1700s. Stretching up to 1280 meters long this aqueduct is a significant landmark in Querétaro and provides water for the city in central Mexico. A giant structure like this is hard to miss and tops the list of best places to visit in Mexico from the perspective of travelers.