The Ultimate Málaga Bucket List: Must-See Places for Every Traveler
Málaga holds a unique appeal when it comes to showcasing a diversity of attractions as it is home to various historical sites, cultural landmarks, natural beauty, and more. The city is known for its deep-rooted culture and heritage, serene coastline, and lively atmosphere sure to lure you into its splendid charm. Málaga continues to attract visitors from around the world.
Discover the Gems of Málaga: Explore Málaga's Top Sightseeing Destinations
Pack your bags and get ready to explore some popular and well-known places in Málaga, Spain.
Alcazaba de Málaga is the best historic place to kickstart your sightseeing journey. A historic fortress that dates back to the 11th Century is flooded with tourists from across the globe to get a magnificent view of the city and the Mediterranean Sea. This place hits all the touristy nerves and at all the right places for a history buff.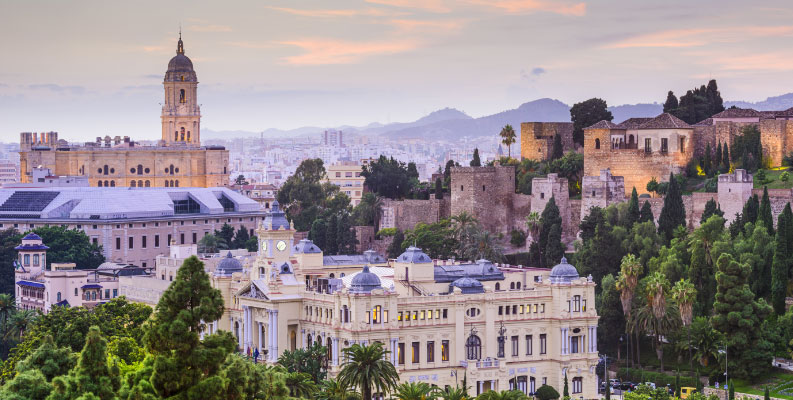 The next place that you must add to your bucket list for Málaga is the Gibralfaro Castle, atop a hill above the Alcazaba. This is yet another popular historical site in Málaga and is quite famous for its in-house museum and splendid panoramic view of the city.
A prominent landmark in Málaga is La Manquita, translating to the one-armed lady, also famously known as Málaga Cathedral, which is a sight to behold. The place features Renaissance and Baroque architectural styles along with an unfinished southern tower.
Málaga resonates well with art lovers as it is the birthplace of the renowned artist Pablo Picasso. For all Picasso lovers, it is hard to miss the Picasso Museum which showcases an outstanding collection of his evocative yet timeless works. Pay a visit to this art galore in the historic center of the city to evoke the artist in you.
Make sure to visit Málaga Park (Parque de Málaga), to breathe in a pleasant green space in the middle of the city center. You will find yourself surrounded by mesmerizing gardens, fountains, and sculptures. If you are planning on a picnic or taking a leisurely stroll, heading to Málaga Park is an ideal place nestled in Málaga, Spain.
The next destination one must delve into is Calle Larios, the main shopping street in Málaga, displaying elegant architecture, lively shops, and a bustling atmosphere to keep you delighted as you shop. Another indoor market that you may indulge in is the Atarazanas Market to find an array of local produce, fresh seafood, and traditional delicacies.
Enjoy a picturesque beachfront view close to the city center at Malagueta Beach. This is a popular urban beach offering golden sands, clear waters, and an assortment of beachfront amenities where one can delight in a relaxing beach day, soaking in the sun.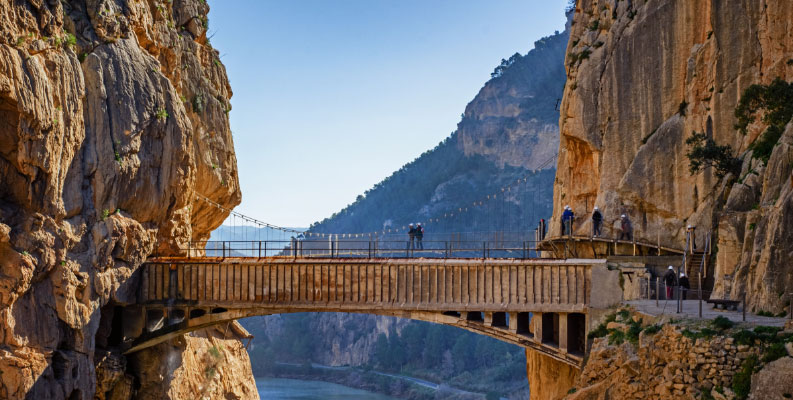 One of the best sites in Málaga, Spain is the Caminito del Rey, commonly known as the King's little path, which is a gorgeous walkaway fastened along the steep walls of a narrow gorge in El Chorro, near Ardales in the province of Málaga, Spain. The walkway runs through a variety of landscapes like cliffs, canyons, and a colossal valley; it is a great site to explore in Málaga for experiencing breathtakingly beautiful and serene sights.
Embrace a delightful blend of history, culture, and picturesque beauty galore in Málaga, Spain. This city is a haven for art enthusiasts, with its wide-ranging and exclusive art galleries and museums. Just simply soak in the Mediterranean charm of Málaga and be ready to make lots of unforgettable memories.